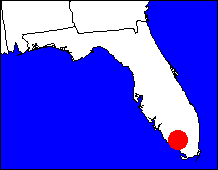 The Trip:
In late February 2003, I attended a conference in peninsular Florida. The meeting was on the remote sensing of non-native, invasive species. The meeting was good, and during the evenings I took every opportunity to see Miami. I had never before been to this city for any appreciable amount of time, so I looked forward to observing first-hand the local yadda-yadda (beautiful beaches, gorgeous people, and trunk murders) that makes for such rich fodder in Carl Hiaasen's novels.

And I was not to be disappointed! Even though I only had a few hours free each day, South Beach, Little Havana, and Biscayne Bay were all demonstrably saturated in the Miami-ness I had hoped I would find. Beautiful people were more common than lice on a whale. And in only four days, I had three encounters with people who wanted, uh, to get to know me better, including a woman some thirty years my senior who felt I needed a good "spanking", who believed that she was the one best qualified to do it, and who was very, very persistent. Worry not, gentle reader, I of course rebuffed all these advances--I am, after all, "taken". (I can hear the collective sob of women around the world as they read this...)

I intended to spend four days post-conference exploring two landscape scale natural areas--Big Cypress National Preserve and Everglades National Park. I also planned to tag along on a field trip (led by a local botanical society) to Key Biscayne, but on the last day of my conference the news outlets lit afire with the thrilling discovery of a mouldy human cadaver on this very island. (Ah, Miami!) I pictured camera crews and seekers of the grotesque converging upon the island, en masse, to trample vegetation and frighten the animals, so I decided to jettison the Key Biscayne trip and rerouted my travel trajectory. I would head first for the Everglades.

In preparation, I bought film, a few days of groceries, and lots of beverages (primarily the kind that prevent dehydration). Since it was close to high season for tourists, I had made my reservations in a number of cheap hotels ahead of time, so I already had my evening locations plotted. All I had to do was have fun during the days, and escape to the cheap motels at night to hot showers!

Incidentally, the main point of this trip was to explore for wildlife and plants--it was not a dedicated carnivorous plant expedition. However, I was on the lookout for two plants that I might encounter on my travels: Pinguicula pumila and Utricularia simulans. I have grown both, but had not seen them in the wild. I doubted I would see either, since it was a drought season, but had crazy hopes anyway. In fact, I had tracked down precise location information for the best place to see Utricularia simulans, and so if it were possible to see this plant during February, I would!

I also considered it likely to see Utricularia foliosa and Drosera capillaris. You can see that my list of carnivorous plants was not big, but the timing of the trip was bad, and as I said, the trip was focused on broader topics than just carnivorous plants.

With rental car loaded with camera gear, food, camera gear, and camera gear, I headed southwest from Miami. Fun, here I come!

Start the photo-essay!