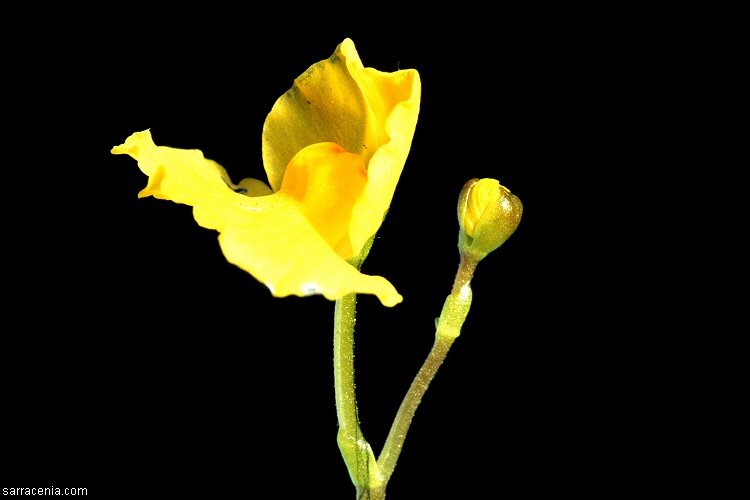 Utricularia radiata:
The story picks up a day after we had left New Orleans. Beth and I had been birding in the bottomland hardwood swamps of the Pearl River Basin, hoping to refind our normal blood sugar levels. Our spirits were high, because the bugs were quite tolerable and we had seen birds new to us both (the yellow-billed cuckoo was particularly exciting).

Next on our agendum was to drive towards Covington, Louisiana, and camp out at one of the state parks. We had to hurry if we wanted to get to our destination by sunset. Alas for the distractions. First, I found an infestation of a non-native plant which looked disturbingly like Salvinia molesta, and it took time to retrieve a specimen without dunking myself in muck. To my displeasure, Beth expressed that she was not interested in swimming the muck for me. The plant turned out to be the less harmful Salvinia minima, so we went on our way. Back on course (Beth napping), another stop was required when I observed some suspicious yellow flowers in the intermittent drainage ditches flanking the road. Ah, Utricularia radiata, a plant I had only seen on one previous trip in peninsular Florida. Very nice! A pretty little beast, eh? (Here is another photograph of this flower, for your pleasure.)

After investigating this plant, we jumped back into the car and continued on our trek towards Covington. Even though we were running out of daylight, yet a few more stops were required. We couldn't help it; even at high speed and dusky light, ditch-side flowers of Sarracenia alata were visible and beckoned. So we complied, and found Drosera capillaris as a bonus.

Wow, three species and we weren't even trying. All signs were propitious. At this point, we did not know about the surprise the night had in store for us.