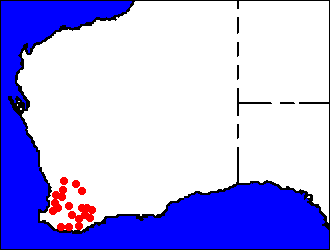 The Trip:
This is the third installment of five reports that document some of the carnivorous plant highlights from a September 2007 trip my wife (Beth) and I took to Australia. This trip picks up where the previous one left off, and starts with describing a very rainy day mostly spent driving from the Harvey area down to the southern coast of Australia. Still, we stopped and saw some great things along the way. The second day was so thrilling that it scorched marks on my brain...

The morning started somewhat early for me. It had rained loudly all night; but I was so tired that my sleep was disturbed only occasionally, when the rain slammed down with exceptional ferocity. Daybreak was muted by the heavy clouds, and when Beth and I awoke Phill was already puttering his house. He showed us the construction we was doing--he was building onto his house to accomodate his family's needs as his kids were getting older.

As Phill and I talked, Beth prowled the neighborhood looking for birds. Phill lives in a quiet suburb, but no doubt the neighbors took note of the strange woman with binoculars walking around the streets on the drizzly morning, wearing nothing but pajamas.

Over coffee we discussed our plans; I had already selected and set out my gear for another exciting day in the field. Suddenly, and despite the fact that Phill had explained to us the itinerary the night before, using short sentences and easy words, it dawned on us that his plans were much different than we had realized. Instead of a simple day excursion, Phill was planning a three day road trip!

Start the photo-essay about Australia!