Greetings and welcome, seeker of knowledge!

Here you may learn about the ecology, cultivation, conservation, and taxonomy of carnivorous plants. Unless explicitly indicated, I am the author of all text in the FAQ, and am responsible for its accuracy and content. If you seek stock photography of carnivorous plants, refer to my exciting Galleria Carnivora.

My Facebook presence: fairly active.
My YouTube channel: admittedly primitive, but perhaps getting better!

Enjoy!
Barry Rice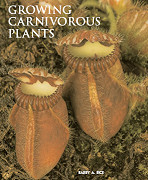 My first book!



Dionaea muscipula

Sarracenia flava

Drosera auriculata

Nepenthes
gymnamphora

Pinguicula
macroceras
Sarracenia minor
My Books!
I have now written two books on crazy plants! "Growing Carnivorous Plants" (Timber Press) is a heavily illustrated book for those who like to take their carnivorous plant information hard and pure. Oh yes, "Growing Carnivorous Plants" is an excellent book, and surely something you need!

"Monster Plants" looks at all kinds of weird plants: carnivorous plants, parasitic plants, mycoparasites, sensitive plants, and plants that mimic the teeth-rattling stench of dead animals. Distributed by Scholastic, only kids can buy it, via Scholastic Book Press.

Monster Plants is directed towards young minds. Being a scientist, I present what I think are some of the coolest facts, always remembering that science is really fun.


Carnivorous plants 101

(FAQ-pages selected for beginners...)




Utricularia

habitat,
Arizona






Pinguicula

habitat,
Oregon






Darlingtonia

habitat,
California





Sarracenia

habitat,
Louisiana






Drosera

habitat,
New Zealand



Dionaea muscipula

Dionaea muscipula

Dionaea muscipula

Dionaea muscipula

Dionaea muscipula

Dionaea muscipula




Nepenthes


'Peter D'Amato'



Pinguicula laueana

Drosophyllum
lusitanicum




Dionaea

leaf pullings






Sphagnum

soils




Pot fire



Plant food






Pinguicula

'Titan'




Leaf litter







Aldrovanda

Brocchinia

Byblis

Catopsis
Cephalotus
Darlingtonia

Dionaea

Drosera

Drosophyllum

Genlisea

Heliamphora

Nepenthes

Pinguicula

Roridula

Sarracenia

Utricularia

Utricularia

Amorphophallus

Arisaema

Aristolochia

Huernia

Monotropa

Stapelia

Sphagnum


Plant sale




Yummy




Trail to habitat...


Et Cetera

Finally, a big thanks to Emilie G. Pulver for her tireless readings and editorial corrections to this FAQ!
Carnivorous Plant Web Ring
Previous Site Next Site
International Carnivorous Plant Society